Managing Calcium in Diets
---
Finding the right system for their transition cows has allowed a Scottish milk producer to drive their herd forward with increased production and improved herd health. Article first published in the October issue of British Dairying.
---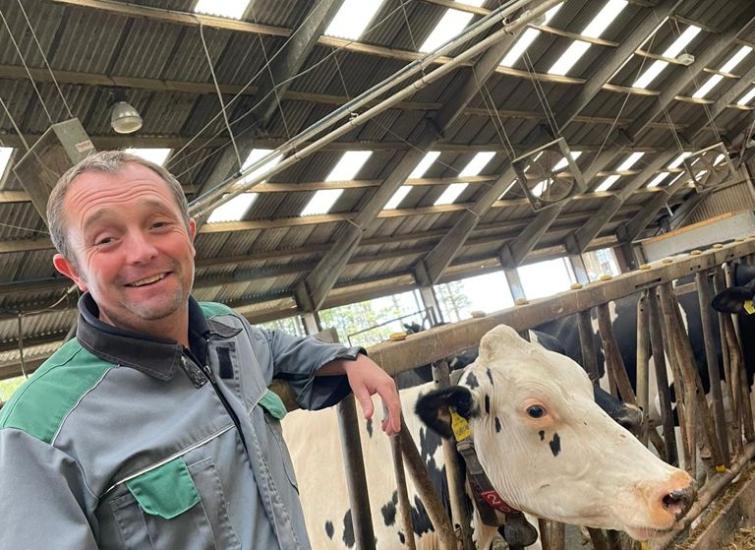 ---
The Colquhoun family look after 790 holstein cows at Dendoldrum Farm, just outside Inverbervie, Montrose on the North East Coast of Scotland. Gregor Colquhoun is a third generation dairy farmer, his grandfather started the dairy in 1946, milking around 30 cows in the byre by hand. Today, it's a high input, high output system and Gregor milks around three times a day through the robots and 670 of his milking cows, produce around 25,000 litres a day. The milk is on contract to Muller, with a high proportion destined for Tesco.

Gregor has a motto – "A happy cow leads to a happy farmer and prevention is better than cure. We are always striving to improve cow comfort and cow happiness." No more so is this relevant to his dry cows who, although weren't experiencing critical issues, cases of milk fever and retained cleansings needed improvement. It's turned out that, prevention is certainly better than cure in this case. Not only does Gregor have happy dry cows, by using the calcium binder X-Zelit, he has not only seen through the close monitoring of his cows, a drop in milk fever, but a whole myriad of benefits that help to maintain the health and longevity of his cows throughout their life on the farm.
Back in 2016, Gregor and Eoghan Mullery, Head of Technical Services from Advanced Nutrition, felt there was more to achieve. Whilst the transition period on the farm was ok, it certainly wasn't perfect. It was the clinical milk fever and more importantly the sub-clinical milk fever problems which they feared the most. Gregor had tried all manner of dry cow diets including high straw, DCAB and semi DCAB.
Gregor comments, "These diets would work ok for a while and then you might change something slightly, or sometimes you didn't change anything but then you'd see a high level of milk fever or retained cleansings."
Many scientific studies and trials have proved that the correct level of calcium in the blood at calving has a significant effect on the health of the cow. Milk fever – both clinical and subclinical, is a result of low blood calcium at calving. A deficiency of calcium around calving has a much wider impact to the herd than just cases of Milk Fever, as the Colquhoun family were experiencing. A lack of calcium affects the muscle and immune function of the animal. This reduced function can lead to a cascade of events which have a huge impact on the health and productivity of the herd long after calving. In this case, presenting itself through milk fever, retained fetal membrane, displaced abomasums amongst other things.
Eoghan advised Gregor to incorporate X-Zelit into their dry cow system. The calcium binder creates the perfect balance of calcium, mobilising the cows' own reserves by stimulating their hormonal system. The farm regularly monitors their cows and records the data to help make health improvements, including recording calcium levels in the blood.
Gregor continues, "We used X-Zelit for a time and then we came off it, thinking that it was an expensive treatment. We won't ever do that again, it's expensive but it works and the benefits outweigh the expense. We record blood calcium and these were below 2 mmol/L, milk fever returned. So, we went back onto X-Zelit as it simply does what it says – it reduces the clinical milk fever as well as the disorders brought about by the sub-clinical milk fever. Other diets were just pernickety, but with X-Zelit it's basically idiot proof!" The Colquhoun's went back onto X-Zelit in September 2019 and the blood calcium levels all went above 2.1 mmol/L, confirming that X-Zelit was working.
Table demonstrating blood calcium levels pre and post X-Zelit
The blood calcium levels stabilised with the use of X-Zelit and Gregor felt so confident with the product, he no longer records blood calcium.
Gregor continues, "We've seen no milk fevers in the last two years of feeding X-Zelit and no LDA's. Retained cleansings are running at a level 2% of calvings, well below the 5% target."
As the herd expanded, production increased from 11,500 to 11,900 litres following the use of X-Zelit.
The table below shows the additional benefits brought about through the
re-introduction of X-Zelit.
Farm Target*

Averages
Pre X-Zelit

Averages
Post X-Zelit

Milk Fever

≤ 1%

3%

0.2%

LDA

≤ .5%

0.5%

0%

Elevated Ketones

≤ 5%

8%

5%

Retained Cleansings

≤ 5%

7%

2%

Average yield for the cows at day 28

49Kg

55Kg
*Farm targets are based on the industry standards but bespoke to the Dendoldrum Farm herd
Blood ketone levels are low on X-Zelit, showing a good energy balance. "It's easy using X-Zelit we have cows that just calve, we take the colostrum off them and they go off to the robot. We hardly see them and are not having to look after them. If I think back to when we didn't treat the cows with X-Zelit, when you get milk fever or retained cleansings it's the time, money and hassle looking after them. They are spending time in the hospital pen, they don't get milking and it's costing us through labour and vets bills, looking after the cows."
"We had good levels of fertility before. Our preg rate is 26% and this has consistently stayed the same despite the herd expansion, milk yield increasing and the move onto sexed semen. So, our Preg rate could have dropped, however, we could say this is in part from using X-Zelit as you would normally expect a 10-15% reduction using sexed semen."


The Dry Cow Diet
The cows are fed a high straw diet including, straw, silage, wholecrop, protein balancer blend and a bespoke dry cow mineral. In the last 14 days X-Zelit is fed.
Gregor works closely with Eoghan and Marius, who feeds the cows, to ensure the 'physical' diet is correct. They focus on accurate presentation, correct chop length, adjusted for the ration dry matter to ensure consistent intakes and no sorting.

Chemically the diet rarely changes, although intakes are closely monitored. The high fibre nature of the diet and the sometimes unseen benefit of X-Zelit, is that forage changes are no problem now. This includes annual forage changes, changes between each cut etc. Previous to X-Zelit these changes made Gregor nervous and almost expectant of issues.
Eoghan comments, "Gregor was doing a good job before X-Zelit, his clinical issues were relatively ok but this wasn't good enough to drive the herd forward, X-Zelit has allowed the herd to get to a better place. As a Nutritional Consultant, I want to create a transition cow that is robust, resilient and is ready to go at calving. Achieving adequate intakes through the dry period is essential and while clinical problems can be managed using many approaches, often these approaches do not address sub clinical issues."
"X-Zelit opens up opportunities for farms to make management decisions with the confidence their dry cows are pretty bullet proof. Our experience on farm has shown this, but it is also backed up by the recent scientific studies from Cornell University*. These prove X-Zelit, significantly reduces clinical and sub-clinical milk fever, improves milk yield and fertility. In the trial and against the control group X-Zelit reduced the time to pregnancy by 19 days and this was on a well-managed farm with no cases of milk fever. Gregor has also experienced these benefits, as well as improved overall cow health. I've used all the various dry cows product and systems but none have delivered the predictable and repeatable results that X-Zelit does. It's a great return on investment for our farms."

Gregor comments, "For us the main benefit of using X-Zelit is that it gives us the confidence to know where we are with our dry cows and to make management decisions in the knowledge that our transition cows will cope. For example, when we installed additional robots on cubicles it allowed the freshly calved cows to go from the calving pen directly onto robots. A better option than going to a straw bedded pack for a couple of days whilst milked through a parlour."

"We stopped blood testing for Calcium because the results were consistently good and we know that X-Zelit was working. We know we aren't going to get milk fever and the cows can go straight to the robots. It's that get up and go that we wouldn't want to take away again."

References
*The effect of feeding sodium aluminum silicate in the prepartum period on serum mineral concentrations in multiparous Holstein Cows. Kerwin, A.L., Ryan, C.M., Leno, B.M. Jakobsen, M., Theilgaard, P., Overton, T.R. Presented at the 2017 Cornell Nutrition Conference for Feed Manufacturers, Syracuse, NY, USA
---
〈 BACK